Our Services in the Translation Segment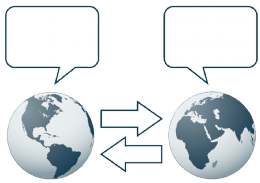 A good translator must be in a position to acquire knowledge in a new field of knowledge! This is done by:
Text analysis
Research work
Reference work
Technical dictionaries
Databases
Glossaries, and much more
If there is an urgent translation, multiple translators shall work together on the same project.  The glossaries are updated continuously in order to ensure uniformity of terminology.
Translation
Translations are the mainstay of our activity. All translations are handled professionally. Two professional translators work on every translation: one translator and one editor. We compose a linguistic team for every project, whose members are selected according to the respective linguistic knowledge, the area of expertise and the target group, and who work closely with the customer.
Proofreading and Editing
A part of our translation services consists of proofreading. The text is reviewed by a linguistic expert with a University degree qualification in the translation language. During proofreading, spelling errors including punctuation, and grammar and typography are corrected. Apart from proofreading, our editing includes the linguistic expression as well as the factual and logical content.
Transcription
We also offer transcriptions from audio and video recordings in written form. These are usually meetings, interviews, dictations or motion pictures.
We accord the highest priority to discretion
Discretion is taken absolutely for granted at translation agency Mag. Daniela Riegler. This is why careful handling and confidentiality of the data and information entrusted to us by our customers is one of our topmost priorities. You can rely on us and be assured that your documents are in the best hands. In order to ensure that your documents are handled confidentially, we have adopted all conceivable juristic and technical measures. Right at the time of commencing cooperation, you shall receive an appropriate non-disclosure declaration on request.  We guarantee comprehensive protection for all information disclosed and entrusted to us – for the text pieces to be translated as well as for what is discussed verbally.
Translation agency Mag. Daniela Riegler - Professional translations delivered by professionals!